In MLB The Show 22, gamers can now take on the role of a GM as they use their own custom player cards to build and customize a team.
MLB 25-man rosters are updated for every game in real time, so you'll always have the latest news at your fingertips when you're trying to make that big trade or find out if your players will be getting called up this season. There's even new gameplay features like super sliding–where contact with another runner is no longer an automatic double play. If you want more info about all these cool features, check out our review of MLB The Show 22 here: https://www.youtube.com/watch?v=o4j3qeZDpWo
The "mlb the show 22 release date" is a game that was released on March 26th, 2019. The game has been receiving positive reviews from critics and fans alike.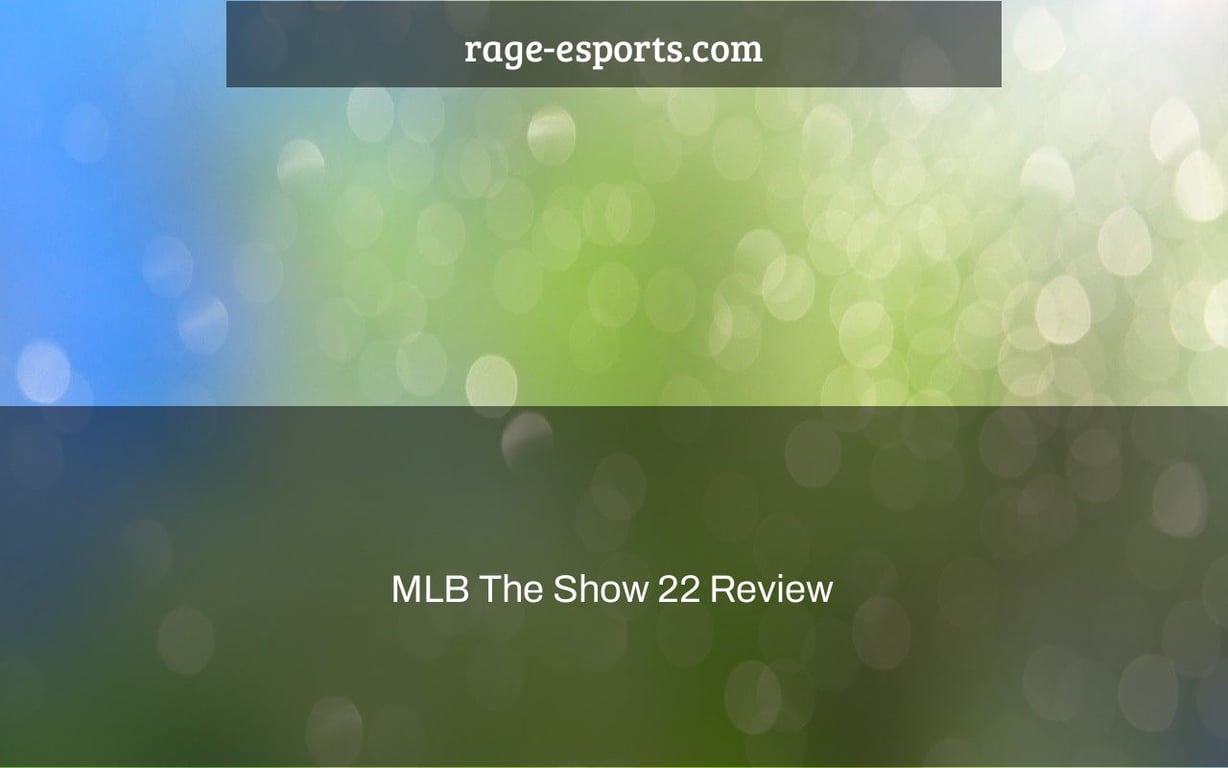 Coming out of MLB The Show 21, SDS had a rare chance to "prove it" in MLB The Show 22. MLB The Show 21 was still good, but not quite at the elite level the franchise has usually reached during its tenure, thanks to some tough franchise mode cuts, a revamped Road to the Show mode that turned away some fans, and some obvious aging in other areas during the transition to new-gen consoles. This takes us to my review of MLB The Show 22.
The start of baseball season is one of my favorite times of the year, so let's talk about the positives and negatives of the sport. The Show Number 22.
Review of MLB The Show 22
What I Enjoy
Improvements to the Gameplay
It's becoming harder and harder to amaze me on the field as someone who has played every incarnation of this series going back to the days of 989 Sports, but that's exactly what occurred this year with MLB The Show 22. Before everyone gets too excited, I was a fan of how the game played between the chalk in '21 as well, and I don't feel anything in '22 will blow you away if you aren't a fan of the gameplay for whatever reason.
However, I appreciate some of the criticisms from last year, particularly when it comes to aspects of hitting such as hit diversity and check swing irregularities. On the throwing side of things, I believe Pinpoint became too "simple" at one time, and that has been addressed here as well. In a nutshell, I found everything to be more polished, natural, and real here.
Fielding (which was already significantly better last year) may have made the largest step forward of any major component of soccer, from how players attack a fly ball to how mistakes play out. Adding perfect/perfect throws to additional parts of fielding gives every relay play an extra degree of skill and surprise, which is fantastic. The monotony of seeing the same cartoons seems to be a thing of the past. In general, attacking a fly ball, throwing the ball, and responding to the ball are all done in a much more natural manner.
In terms of improvements, it's not only about fielding. The way the ball leaves the pitcher's hand, its flight path through the air, and how it responds when it comes off the bat all have new features. However, I feel we might still benefit from much improved pitcher "follow through" animations. Almost everyone throws hard these days, but the animation system has to do a better job of showcasing that effort and power follow through in order to sell some of these guys coming up there and throwing gas.
In terms of hitting, I'd want to emphasize the significance of check swings, which seem to be significantly more effective this year. SDS seems to have discovered a better method to sync these check swings with the umpire appeals to make them correspond better visually, and the results this year simply feel more "fair." On the throwing front, the simplest explanation for the improvements is that Pinpoint feels more difficult. It's simpler to get more walks and for pitchers to lose control of the strike zone, which is encouraging.
MLB The Show 22 may surprise you if you were hoping for significant improvements in a certain area. However, if you're someone who normally enjoys the game but thought it was a touch lacking last year, the overall improvements should entice most of those folks to return.
The months of March to October
It's unclear if M2O will eventually replace franchise mode, but for the time being, M2O is settling in well. M2O's admiration is divided into many categories. The first is that the mode allows casual baseball fans to have a more enjoyable experience without having to deal with the intricacies of the sport or managing a team. Second, if you're like me and appreciate operating a franchise with your preferred club, this is a way for me to enjoy other teams while still getting a satisfying experience.
M2O also allows you to take control of certain players, including some of your farm system's top prospects, and speed up their progress to the majors. Although deciding who to put on the fast track to the big-league club isn't always easy, the game does offer you the option of declining the selection if the player doesn't fit into the squad's ambitions.
Some alternatives are restricted and linear in this accelerated mode, and a couple make little sense, such as attempting to get my 28-year-old catcher with D potential to the majors as fast as possible.
Another small problem with M2O, which is subjective, was my squad's failure to establish a regular flow throughout the season. It takes time to get acquainted with each player's talents and shortcomings, whether on the field or at the plate, and the rapidity with which you go through the season produces a sense of unfamiliarity that I could never completely shake off.
Nonetheless, you're getting into a lot more scenarios at this stage, which is great. Games will begin in the late innings, there will be more opportunities for player lock, and there will just be more variability from game to game. Furthermore, there is now an offseason with a more in-depth free agency to actually enjoy. I haven't done much with that aspect of things yet, but I'm curious to see how it feels after a few more offseasons.
I'd want to see more customizing possibilities in the future, particularly for rosters, logos, and stadium selections. I'll confess that I'm a franchise snob who enjoys having complete control over my team throughout the year. Nonetheless, I had a lot of fun playing M2O in unexpected ways. The experience was entertaining and unusual, despite some small problems that I mentioned previously.
Creator of Stadiums
As someone who created over 100 real and fictional stadiums in MLB The Show 21, seeing what the new edition of the Creator of Stadiums had to offer was high on my priority list. Sadly, it wasn't a lot at first glance, which I will get into later. If we take my disappointment in the lack of new options and push it aside for a bit, there are two substantial new additions to the creation tool that create an instantly better overall experience than the one found in The Show '21.
The first is the greatly sought feature of being able to play night games in all sorts of built stadiums, which was meant to be patched in with last year's update but never happened. The effect of playing night games in built stadiums is significant, and the fact that you have control over the ballpark's lighting design is even greater. Furthermore, this is not a generic lighting alternative that satisfies those of us who yearn for it, but rather a contextual program that is dependent on your ability to construct an appropriate lighting system based on the demands and design of your park.
I am ecstatic with the outcomes after hours of testing and modifying the system in various settings. The lighting in a constructed stadium setting is as nice and natural as that seen in a developer-built stadium or venue.
The other more critical improvement to the system was a more extensive internal memory capacity system, which means more items can be added than in last year's program. This may sound like a "nice-to-have," but I would categorize it as a massive improvement. In my time with the new Creator of Stadiums, I found the ability to build out both stadiums and surrounding neighborhoods easier to accomplish, allowing me to create living cities and communities that correspond with the type of stadium I was building.
This is really important to me (and others), and the atmosphere of a stadium contributes to the realism.
Not everything is perfect in the Creator of Stadiums, as some of the new navigation tools seem like an odd choice, and I will get into the lack of new additions down below (and one bug), but the additions of nighttime baseball and the ability to create more prominent, living neighborhoods are powerful enough to land the Creator of Stadiums on the list of things I like.
Presentation
Like with the Creator of Stadiums, I have some negatives here, but it's still a major net positive overall. Out with the old and in with the new is the central theme for MLB The Show 22, especially as it relates to rebranding the Presentation and the sounds in the booth. Matt Vasgersian is no longer the voice of the series, leaving after being attached to the franchise since 2006.
With Matt out of the picture, the new play-by-play and color commentary combo consists of Jon (Boog), Jason Sciambi (ESPN, Chicago Cubs), and Chris Singleton (White Sox, Brewers, ESPN). Fresh lines and viewpoints come with new voices, and although it's just the first year, I believe this combination is the ideal decision. I'll go through some of the drawbacks later, but the main thing is that they sound great in the studio, and whatever concerns I have should be resolved in the long term.
To put it another way, their lines are flowing, the information is typically relevant and on target (when there aren't any problems), and they provide everything from over-the-top excitement to the prosaic call of a strike one. As the play-by-play announcer, I believe Boog is very crucial, and his inflection is almost ideal for a video game. Singleton is the latest in a long series of, to put it bluntly, awful commentators who have worked for SDS, and he shines by simply not being one of them. He comes off as the "weaker" of the two here, but color commentary in these games is more difficult owing to the need to avoid being too memorable and repetitious without being dull.
However, we must address the bugs and repetitiveness. There have been a few instances of repetition and just calling the wrong sequences throughout my time with the game, ranging from an erroneous amount of outs to characterizing a team gaining the lead on a walk-off instead of immediate joy. The repetitiveness shows through first and foremost with batter and pitcher introductions (as it has in the past). It's clear and visible to suggest that X youngster may be in the Majors in the next 10-15 years, then call out another young kid an inning or two later and say the same thing.
The same can be said about repeating phrases when you pop out to first base, as well as some of the more interesting material, such as the stadium history tales. None of these is very bothersome on its own, but it seems that SDS lacks a method for detecting when a line has previously been used and stopping it from playing for a couple of games — or something similar.
Then there are the odd priority concerns that arise from time to time. Bryce Harper should never be referred to as "number 3," but I've heard it before. His name is also in the game, so why wouldn't you use it all the time? In any case, they seem to be technological hitches rather than structural flaws that may be addressed. SDS simply needs to bring out the best in Boog and Singleton in the booth going forward, as well as maybe improve their commentary system to be a little wiser.
The commentary works effectively at times simply because it is part of a much better overall audio mix. The pauses and stillness that characterize a typical baseball broadcast have returned (which is fantastic!). Boog and Singleton don't chat incessantly; instead, they blend into the new soundtrack, which is full of enhancements. This year, the glove noises of various pitches, the crack of the bat, the changing sounds at different stadiums, the way the runner's foot reaches first base, and the crowd swells and responses have been much enhanced. I'm not sure whether everyone will notice everything, but if you've been playing The Show for a long time, you'll notice a lot of the changes. I do hope we start to hear more individual fans as a layer of sweetening, although this aspect of the game has risen dramatically this year.
When it comes to the visuals, gamers may now pick between a handful of national broadcast packages or the newly added regional broadcast option, which replicates regional networks like NESN, Marquee, YES, and a few more. New camera angles, new camera types, transition and wipe screens, and updated team visuals are all included in the presentation enhancements.
I don't have much to say about the graphics, but the point I'm trying to convey is that the modifications can be seen here as well. SDS is on the right track with the presentation, and now all I have to do is hope that the developers don't slow down now that they've made progress.
What I Don't Care For
Improvements to the franchise system are lacking.
As I mentioned earlier, my love and passion for franchise mode is what drives me to MLB The Show. That said, the feeling many of us have is that franchise mode has been abandoned (for the most part) at this juncture. Regardless of the reasons — whether that be because The months of March to October and franchise mode might one day fuse into one or because it's hard to rapidly add changes due to coding issues — the fact is that franchise mode within the MLB The Show series has grown stale and predictable.
That isn't to say that there isn't a lot of fun to be had here, but there are still a lot of things that can be made to franchise mode to increase the degree of realism and pleasure. I'd want to see the ability to build leagues and divisions, customizable draft classes and bench coaches, expanded spring training possibilities, and the ability to construct and utilize bespoke or retro-style broadcast packages for historic rosters at this point.
These are just a handful of the features I'm hoping to see in MLB The Show franchise mode in the future. In overall, although the additional improvements to the mode are appreciated, they are just insufficient at this time.
Creator of Stadiums
While I like Creator of Stadiums, there is plenty of room for disappointment when it comes to this year's version. There are very few new additions to the items to help build out your stadium creation. Many creators were hoping for additional props such as different seating arrangements, different fence configurations, new stadium props to add throughout the stadium, and the ability to import created logos and adhere those logos on fence walls to create a more authentic-looking venue.
While the lack of new additions and new props to place within your creation and around your creation is a disappointment, this year's Creator of Stadiums still does not allow you to create a retractable roof stadium or a dome stadium. On top of that, there are a couple weird bugs affecting some users that go in a couple different directions. The scariest bug within this group is that you can create a stadium and then when you load that stadium, it's not actually the one you created. It's hard to figure out what's causing this or how widespread it is right now, but be sure to save backups of your stadiums as you create them right now.
Conclusion
MLB The Show 22 is the most visually and acoustically stunning baseball game I've ever encountered. As many of us do, I still want to see future enhancements, but that doesn't mean I can't separate what I want to see in the future from what is so excellent about this year's game. MLB The Show 22 is, at the end of the day, a fantastic baseball game.
Related
The "mlb the show 22 franchise mode" is a new feature in MLB The Show 22. It is a game mode that allows players to create their own baseball team and manage it throughout an entire season.
Related Tags
mlb the show 22 review metacritic
mlb the show 22 new features
mlb the show 22 price
mlb the show 22 predictions
mlb the show 22 mvp edition